There is a growing concern for EMF radiation, as people are becoming more aware of its harmful effects. This is the reason why communities and various private organizations are now demanding more strict regulations towards EMFs emitted by cell phones, WiFi routers, computers, and any other electrical device. EMF protection products are one way for you to protect yourself against EMF. This is probably the reason why there is a high demand for such products right now.
As a result, there are many companies and individuals taking advantage of this growing concern and offering products that cannot offer significant protection against EMF radiation, and some of them are not even effective. The most common victims are those that are unfamiliar with EMF protection products.
We wrote this article so that you won't fall victim to such unscrupulous people. Today we will give you our list of the best 11 EMF protection products that you may buy online or at your local store.
Some of these best EMF protection products we have tried ourselves, so we can agree with the great reviews they receive.
EMF Protection Products We Highly Recommend
1. EMF Meters
Protecting yourself against EMF starts by understanding how much EMF radiation is present around you. Measuring your house or office for EMFs is the best way to do this.
To measure EMF incoming and outgoing signals, you will need an EMF meter. EMF meters allow you to measure the overall level of EMF radiation present in its various forms, ELF-EMF and RF-EMF.
ELF-EMF usually comes from electronic circuits and power lines and has been studied to cause leukemia. RF-EMF, on the other hand, has been related to cause brain cancer. By measuring and knowing what type of EMF is present at home or in the office, you will be able to determine what type of EMF protection product best fit your needs.
For an excellent EMF meter, we highly recommend the TriField TF2. It detects ELF-EMF and RF-EMF at the same time. It is also very durable and easy to use. As an added bonus, it even has an alarm feature that warns you when harmful radiation has exceeded the safe value.
Read our article on how to choose a good EMF meter.
 2. EMF Protection Cell Phone Cases
One of the most notorious devices that emits dangerous amounts of EMF is your cell phone. Your cell phone emits ELF-EMF and RF-EMF at the same time. What makes it so dangerous is that we're using it 24/7 close to our head and body when making calls, texting, checking emails, playing games, or watching videos on it.
Since we're using it frequently, its WiFi and data connection are always turned on. This means that we're always exposed to its EMF radiation.
An EMF protection cell phone case is an excellent solution to protect yourself against EMF radiation emitted by your cell phone.
We recommend DefenderShield EMF Protection Radiation Case. This brand offers superb quality and design. Apart from protecting against EMFs, they also protect your phone from scratches and other accidents. All cell phone cases made by DefenderShield are FCC lab tested and certified. The reviews for their products are impressive. If you can't afford a DefenderShield case, a great alternative would be SafeSleeve EMF Protection Anti Radiation Case or RadiArmor Anti-Radiation Case.
Read our article on how to be protected with an EMF cell phone case.
3. Air Tube Headphones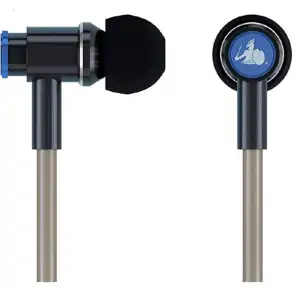 If you're using wireless or wired headphones to privately listen to music, then it's time you ditch them right now.
Wireless is worse as they work on Bluetooth technology. But earpieces of wired headphones and the wires themselves also emit small amounts of EMF. The amount may be small but is still dangerous because they reach the brain through your ears.
Sometimes you may feel a little bit dizzy after using wired headphones for quite some time, and the possible culprit is EMFs. The solution is to protect yourself against EMF from wired headphones using air tube headphones.
Air tube headphones emit zero EMF radiation. They use air to deliver sound from your phone towards the earpiece. This is made possible by using air tube components that allow sound to pass through without a reduction in quality and tones. Similar to regular headphones, they provide an excellent listening experience and uncompromising comfort when making calls.
Our favorite is the DefenderShield EMF-Free Earbud Headphones, the sound quality is excellent, and the air tube component is very durable and stylish.
4. Smart Meter Shields
Smart meters are handy devices that allow utility companies to determine how much electricity has been used in your house. They are really convenient since companies don't have to send someone to your home to your house to read the meter. However, they have been a controversial topic lately, as they use radio waves to transmit or process data, which releases large amounts of EMF radiation.
Smart meter shields are great protection against EMF from smart meters. A smart meter shield is made out of solid, grounded metal, which allows it to offset large amounts of RF-EMF. They block up to 98% of EMFs. Using it is very easy. All you have to do is to slip the product over the meter and tighten the bolt.
Our recommended shield is the Smart Meter Cover RF Radiation Shield, which has been independently tested and reduces RF-EMF radiation from smart meters by 98%.
Read our article on smart meter covers here.
5. WiFi Router Guards
Your WiFi router emits large amounts of RF-EMF. This is the reason why we recommend turning off your WiFi router before going to sleep. Doing so will help you reduce the EMF that your body receives during the night.
If your router is in a hard place to reach, or you don't want to ruin your children's late-night enjoyment on his or her favorite video games, we recommend that you buy a WiFi router guard.
WiFi router guards work similarly to smart meter shields. All you have to do is to encase a WiFi router within the case, and EMF radiation will be instantly decreased.
We recommend that you buy the WiFi Router Guard by Smart Meter Guard since it is very spacious and reduces EMF radiation without compromising your router's signal.
Read more about WiFi router guards in this article.
6. EMF Protection Blankets
Who said EMF protection products are only available as covers or casing for WiFi and cell phones?
If you don't want to buy a WiFi router guard or a smart meter shield, EMF protection blankets are what you need.
They look and feel similar to standard blankets, but they block EMFs using copper or silver. This is your all-in-one EMF protection product.
You can use an EMF protection blanket like a WiFi router guard by putting it over your WiFi router. You can also use it as an EMF laptop pad, to cover yourself when you are in bed or when watching TV. What we like about this product is that it provides comfort and EMF protection at the same time.
EMF blankets are very handy for pregnant women, newly born babies, and toddlers.
We recommend the DefenderShield EMF Radiation Shielding Blanket, as it uses multiple layers of shielding that provide 100% protection against EMF signals coming from WiFi, laptops, and other electronic devices. Because it uses pure organic bamboo as its primary material, it provides warmth and comfort, aside from protecting babies, children, and adults from EMF radiation.
Read all about EMF blankets in this article.
7. Laptop Shields and Cases
Are you always on the move and using your laptop on your lap?
Many health risks are associated with this practice, as electromagnetic radiation may affect the organs in the lower part of your body. For more information, you can read our article on EMF and Male Infertility.
In any case, we advise that you use laptop shields and cases. These are usually made from rubber, plastic, and materials that offset EMF radiation. You'll find laptop shields quite useful because they allow you to put your laptop comfortably on your lap and act as a laptop desk at the same time.
Personally, I can't live without the SafeSleeve EMF Protection Anti Radiation Laptop Case. It blocks 99% of EMF radiation and heat, and it is FCC accredited. When used as a shield on your lap, it has a mouse pad, and it comes in two sizes: for 13″ laptops and for 15″ laptops. It also comes in two colors: tan and black. We can't decide which one we love the most!
8. EMF Protective Clothing
Wearing EMF protection is the best way for you to defend yourself against EMF radiation wherever you go.
All EMF clothing is made from a mix of nylon, cotton, polyester or rayon, and copper or silver. This mix makes EMF protective clothing capable of blocking up to 99% radiation and works similarly to conventional clothes.
You can find any type of clothing made from these materials, like a hat, a t-shirt, a tank top, and even underwear. Because of the nature of its materials, all EMF protective clothing is very comfortable to wear. Underwear is always breathable, while the t-shirts and tank tops, on the other hand, can be hypoallergenic.
In this area, our favorite is UrGarding EMF shielding pullover hoodie since it covers you completely and is made of silver fiber.
Other excellent EMF protective clothing is:
9. EMF Bed Canopies
Research shows that EMF affects how you sleep. EMF causes you to be unable to go to sleep fast and even affects your sleep rhythm.
Turning off your WiFi network at night and not sleeping next to your phones will help you to reduce EMF exposure while sleeping.
However, there are other external sources of EMF outside your house, such as powerlines and your neighbor's WiFi. This is where the EMF bed protection canopy comes in handy.
Aside from giving your bedroom an elegant and mysterious touch, it provides further protection against EMF while sleeping.
Our favorites are:
Get an EMF bed canopy, and you'll notice that sleeping is easier, more comfortable, and you wake up in the morning feeling rested and more energized.
10. Faraday Bags
Faraday cages or bags are great if you want to isolate EMF emitting devices such as phones, keys, pocket WiFis, etc.
Faraday bags are particularly useful if you want to stay out of EMF radiation while traveling. Another use for these products is to use them as EMF WiFi router guards. Just simply slip the router inside a faraday bag, and EMF radiation will be significantly reduced.
There is a great variation of Faraday bags to choose from, and it will all depend on the size you are looking for. They are an easy and versatile solution for various EMF emitting devices.
We recommend the Ultra Armour Defender Shield Duffel Faraday Bag. It offers a 360° signal-proof shield from all wireless EMF and 5Gen frequencies up to 90 GHz.
11. EMF Protection Paints
These are some EMF products that are growing in popularity. Paint is one of them. It is easy to apply and can block up to 99.99% of radiation coming from outside your home.
We recommend Yshield EMF Paint, which, in our opinion, is the best out there. Easy to apply, waterproofed, and does not contain harsh chemicals.
Read our extensive article on EMF protection paint.
Final Thoughts
With so many EMF protection products in the market, it can be difficult to find one that is right for you. We have done all of your research and testing for you with our list of top-rated EMF blocking devices. Our team has conducted extensive research on every feature these items offer–including their ability to block up 99% of EMFs from cell phones, WiFi routers, microwaves, baby monitors, and more–and we are confident they will work well for you! Which product do you think would best fit your needs?
We give you 100% assurance that the products listed above work really well. Before we listed these products, we researched every feature and tested their EMF blocking capabilities, and all of them are capable of offsetting up to 99% EMF radiation.
Try one of the products listed above and see for yourself!