A lot of people have questions regarding EMF bracelets and have asked us if they really work. Unlike most EMF protection products available in the market, good bracelets are not that easy to find. It is also hard to find a person who knows a lot about them and who can give us straight answers. We wrote this article, hoping that we'll be able to answer all of your questions regarding EMF bracelets so you can make an informed decision if you want to wear one.
What are EMF bracelets?
Before going into their functionality, it's important to look at what they are. Unlike regular bracelets that are used based on fashion and, some of them, self-confidence and anxiety help, EMF bracelets are made to block EMF radiation, so they are made for your protection. 
EMF bracelets have been endorsed to have the capability to block electric and magnetic radiation. Although this has not been tested yet, people that wear them have mentioned a considerable reduction in EMF symptoms. In some cases, they have been seen to help with EMF-induced sleeping disorders, depression, and other related symptoms.
Materials
Most EMF bracelets are made out of tourmaline. But you can find other made out of titanium, silicon, germanium, and zeolite.
These components have been studied for a long time and have been used for their electromagnetic reflecting properties.
Just because they protect you, it doesn't mean they can't be fashionable too. They can look like standard accessories, and come in different styles, colors, and sizes. 
Now that you know what they are, its time to answer some of the essential questions about them.
Do EMF Bracelets Really Work?
This surely is one tricky question. Manufacturers claim that most EMF bracelets are made out of materials that have the capability to offset EMF radiation that our body receives. However, it is challenging for those manufacturers to provide accurate numbers as to how much EMF radiation these bracelets actually block. 
However, it's incorrect to say that EMF bracelets don't work. There are many cases of people who have benefited from them. A simple product review search regarding these bracelets shows many examples where some people swear by them. Their experiences seem like a good case to at least try them.
If you want to test EMF bracelets yourself, a good method is to use an EMF meter. You can use it to test EMF blankets, EMF router guards, and any other product that protects from EMF. 
The best EMF meter is Trifield TF2 EMF meter. With this meter, we have tried to test the effectiveness of various EMF protection products. 
Now, here comes the problem: when EMF bracelets are tested, TriField TF2 failed to give accurate readings. We tested three of them but got varying results. Still, this doesn't mean that EMF bracelets don't work. It's just that testing them using EMF meters is difficult, and may not even be possible.
Still, it's important to note that there must be a reason why EMF bracelets are getting more popular nowadays. Those that are satisfied with them can't stop recommending them enough. 
However, it is important for you to know some of the best and better reviewed EMF bracelets on the market right now.
What Are the Most Popular EMF Bracelets?
Some EMF bracelets have earned the trust of many consumers over the years. Today we will show you some of the best EMF bracelets form companies that you can trust.
#1. Quanthor EMF Protection Bracelet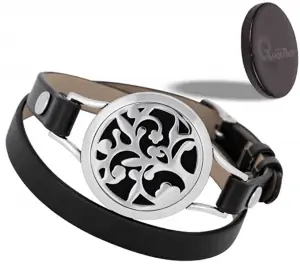 Quanthor is a company that can be trusted. The Quanthor EMF Protection Bracelet packs a lot of useful features. It is made of materials that can offset EMF radiation. Its far-infrared technology is really useful if you are always hanging out on places where infrared is present. 
It also can reuse energy around you to give you warmth, which improves blood circulation. To know if are experiencing the benefits of the far-infrared feature, just find the ceramic inert red diode attached to the bracelet.
This EMF bracelet also comes with a black diode attached to it made out of germanium. The germanium will help you boost your immune system and prevent headaches or migraines.
If you are feeling sporty, then the Unipolar Neodymium Magnets that these bracelets have will be really useful for you. Manufacturers claim that these magnets can improve mental focus, as well as physical strength. It achieves this by separating blood cells, allowing for more surface area and greater oxygen absorption. Consider wearing this bracelet if you are about to engage in a sports tournament and want EMF protection.
The best feature that this EMF bracelet offers is its ability to generate negative ions. Negative ions have been studied to provide various health benefits and can combat the possible effects of EMF radiation. It works by neutralizing positive ions present all around you. Some of the health benefits associated with negative ions are:
diminishing airborne infections,

enhancing the capacity of the cilia in our respiratory tract, which can help prevent illnesses, and

can treat depression.
#2. Spirit T Negative Ion Anti EMF Bracelet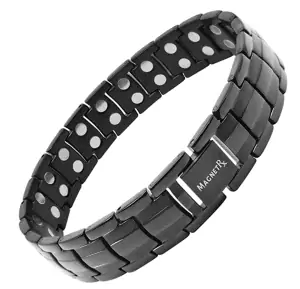 The Spit T Negative Ion Anti-EMF Bracelet claims to block EMF by using far-infrared heat and negative ions. 
What we really like about this bracelet is its slim and sleek design. Aside from this, you'll find it to be very comfortable. 
This bracelet is made from tourmaline and germanium, which are both good at generating negative ions. Manufacturers claim that the negative ions that this product generates are capable of improving concentration, reduce migraines, reduces stress, and improves sleep.
#3. COOLSTEELANDBEYOND Ladies Magnetic Bracelet
Another attractive alternative is the COOLSTEELANDBEYOND's Ladies Magnetic Bracelet. It also uses negative ions to help relieve join and hand pain, boost mood, and improve sleep. This bracelet is adjustable and it comes with a link removal tool to customize the size of your band.
This is an excellent option if you don't want bulky jewelry and prefer it to look just like a regular bracelet. This bracelet is made from stainless steel and embedded with magnets and germanium. It's also available in different colors: silver, gold, or silver-gold colors.
Reviews have been very positive, and some users liked the look and its ability to reduce hand pain.
What Should Be Your Final Thoughts on EMF Bracelets?
It is important to notice that these bracelets do not really provide direct protection against EMF. Unlike EMF blankets that block EMF radiation directly at various frequencies, EMF bracelets can block EMF radiation using negative ions and far-infrared heat. Negative ions and far-infrared heat may be useful to alleviate symptoms of EMF.