Are you wondering how to protect against EMF emitted from smartphones, iPads, and laptops? Anti-radiation stickers are the cheapest and simplest way. But do they work? The increase in the use of personal technology in the last ten years has been exponential worldwide. We all use cell phones now, which are the biggest threat as they are the closest to the body for the longest time. We have them with us wherever we go, get home, read the news or play a game on an iPad, and work from laptops. Though the emissions are well under the Specific Absorption Rate (SAR) regulation, it can still harm you in the long run. With only a few results and a lot of ongoing research, the number of cell phone EMF casualties might be getting higher and higher every day. 
How do you protect yourself from cell phone EMF radiation?
There are two ways you can protect yourself from EMF radiation when using a cell phone. One is shielding the radiation with physical covers, and the other is using anti-radiation stickers.  Mobile phone cases are very effective in EMF protection, as they use 'tried and tested' shielding materials like copper and zinc as part of the case. But as a downside, your sleek phone will get at least three times thicker.  If you feel the bulk is not worth the compromise, anti-radiation stickers might be the way to go. 
Do anti-radiation stickers work?
To get to know if they work, let's look at the three main areas I always check first: science, patents and awards, and real people reviews.
1. The science behind it: This is the most debatable topic about EMF stickers, as there are different types of stickers that use different methods to block radiation. While some use negative radiation to neutralize the EMF, others modify the radiation through paramagnetic minerals to change the frequency, so it is no longer harmful to the human body. We'll have a look later on at the different options and analyze the science behind them.
2. Patents and awards: Many products in the market claim to block or protect from cell phone radiation, but only a few hold patents for their technology and its capability to work. While a patent is not proof that something works, sometimes it helps if the technology has been tried and got good results in other devices. Awards are an added advantage. Sometimes innovation awards confirm recognition from regulatory bodies or associations we can trust.
3. Real people's review: There is no better factual proof than the opinion and experience of people who have used the device. The reviews have to be objective and not paid for by the company. Be aware of Instagram influencers who promote anything for money. Look for people giving out legit opinions on products they have used. Every product doesn't get all 5-star ratings, but you will get to know the good, the bad, and the ugly. 
All the above three factors are added to my personal testing when I research any product. So, how do you find the best EMF stickers? Well, you don't have to, because we have done it for you. 
3 Best anti-radiation stickers for mobile phones
#1. The Aulterra Neutralizer
Aulterra is a brand that also makes a few other EMF protection products and claims them to be scientifically proven, patented, published, and peer-reviewed. From necklaces to pillows, Aulterra has been making products since 1997, and the brand is familiar to those aware of EMF. To see a brand so focused on EMF awareness and protection instils trust in me. Further, a considerable amount of research papers have been published based on their EMF protection products, all from well-established universities and independent labs.  Aulterra Neutralizer claims to change the nature of the EMF rather than shielding or blocking it from reaching tissues. Their products retune the EMF frequencies of cell phones and other electronic devices into coherent energy. Once the frequencies are converted, they no longer do harm to your DNA. The secret lies in the paramagnetic minerals found in all of their products. The Neutralizer sticker has 4.5 stars on Amazon. It can be used with cell phones, wireless devices, laptops, computers, and baby monitors. The science behind this product is fascinating. Here is how the Aulterra Neutralizer claims to work: the neutralizer sticker has three micro-thin layers of paramagnetic minerals. The paramagnetic minerals retune the incoherent EMF pulses (including 5G) and completely harmonize them into coherent, natural, and unharmful frequencies. This also explains why the EMF meter can't detect any change when the Aulterra EMF neutralizer sticker is used. 
#2. Hubbering Quantum Shield Protection
This is probably the second-best EMF protection sticker on the list, with a surface of 1.1×1.1 inches and a thickness of just 0.1 inches. Made of Silver Nano-Anion Silicone, you can easily stick a Quantum Cell to the back of a cell phone's case without even noticing it's there. The Quantum is a unique brand in EMF protection, unlike the numerous companies out there trying to resell the same gold-plated sticker in different shapes. They also have their own way of changing the nature of radiation to avoid affecting DNA. The technology it uses is Mirror Resonance Technology (MRT). Quantum has perfectly aligned circuits within the thin sticker that mirror and oscillate the EMF pulses. This reverses damaging effects and amplifies natural energies. 
#3. Quanthor 360 degrees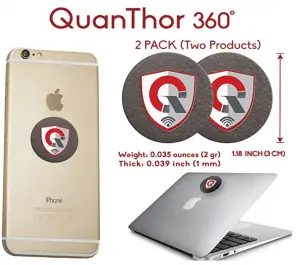 This is the "crème de la crème" of anti-radiation stickers. An Award-Winning device (Brussels 2006 & Geneva 2004) that neutralizes 90% of harmful frequencies. The Quanthor 360 is based on Telstra Technology and a practice used for thousands of years (similar to "Impon Kalasm" used in Indian temples). Their technology uses a mix of semi-precious stones, rare metals, special oxides, and elements with superior magnetic properties. Among them are jade, galena, zirconium, gold, silver, titanium, magnesium, zinc, and selenium. These special elements emit Negative Ions constantly in the environment. Negative ions are odorless, tasteless, and invisible molecules that increase your sense of well-being and mental clarity. That's not all the Quanthor 360 claims to possess. It has other benefits too. It generates Schumann Resonance Waves of 7.83Hz, rebalancing your body. Schumann Resonance provides healing energy to the body. The negative ions generated by the sticker are said to help improve blood flow, balance chemicals and relieve stress.  The Quanthor has quite a few recognitions for its technology and products. 
"Best EMF protection field" at International Exhibition of Inventika in 2005. 

The California Institute of Electronics and Magnetic Science backs the claim of EMF protection.

Award-Winning device (Brussels 2006 & Geneva 2004).

They also have a US patent to their name for EMF protection and bio-healing technologies. 
As we said before, this is the best sticker you can get to protect you from EMF radiation, and the one I use myself. Check it out on Amazon here.
What's next
If you are looking for EMF protection, remember that you have to consider other sources of emissions too. From low EMF light bulbs to shielding blankets, even EMF shielding paints, or a WiFi router guard. As you know, there are bigger sources like power lines passing by your house, radiation from the oven, and EMF from other home appliances. However, cell phones are always with us, and we need to protect ourselves from their radiation first. For the best results, you can trust the above options for your EMF protection.